UHMWPE pipe
UHMWPE pipe is an optimal pipe, can be extensively utilized in mining pipe(ore powder, pule,UHMWPE Conveyor Pipe, tailings release pipes) metallurgy pipe, electricity pipe, petroleum pipe, textile pipe, papermaking pipe, food pipe, chemical pipe, mechanical pipe, electrical pipe as well as other sectors.

long distance Discharge Pipeline features:
1, Anti-abrasion:the abrasion value of UHMWPE pipe is 1/4 of steel pipe,1/3 of HDPE pipe under same working condition.
2, Water hammer resistance:UHMWPE pipes have strong enduring capability to the impacts from various sands,mud and slurries.
3, Corrosive resistance:With higher structure stability ,UHMWPE pipes are corrosive resistant to sea waters.No electro chemical corrosion,no need anti-corrosive coating.
4, Self-lubrication:The roughness of UHMWPE pipe is 0.00022mm.The pressure loss of UHMWPE pipe is 1/10 of steel pipes ,1/7 of nylon pipes.Over 20% of transfer efficiency will be increased.
5, Non-scaling:The internal wall is very smooth,preventing the fouling on the wall and no influence to the production efficiency.
6, Light weight:The density of UHMWPE pipe is only 1/8 of steel pipe.It is easy to move and install,especially suitable for the working sites at he lifting machines could not work.
7, Easy connection:flanges are available to connect the pipes,no need washers .The installation will be very easy and fast.
8, Anti-aging:the UHMWPE pipes will not be aging in 50 years under hot sunlight,and it could work over 100 years if buried underground.
9, Environment friendly: UHMWPE pipe is nontoxic,no bacteria,and no pollution to environment.
10, Discharge Pipeline (UHMWPE PIPE) Usage: it is widely used in dredging, water supply, metallurgical mines, electric power, petroleum, natural gas, textiles, paper making, food, chemical industry, machinery, etc.
11, With CE, ISO9001, ISO14001certificates, high quality and competitive price.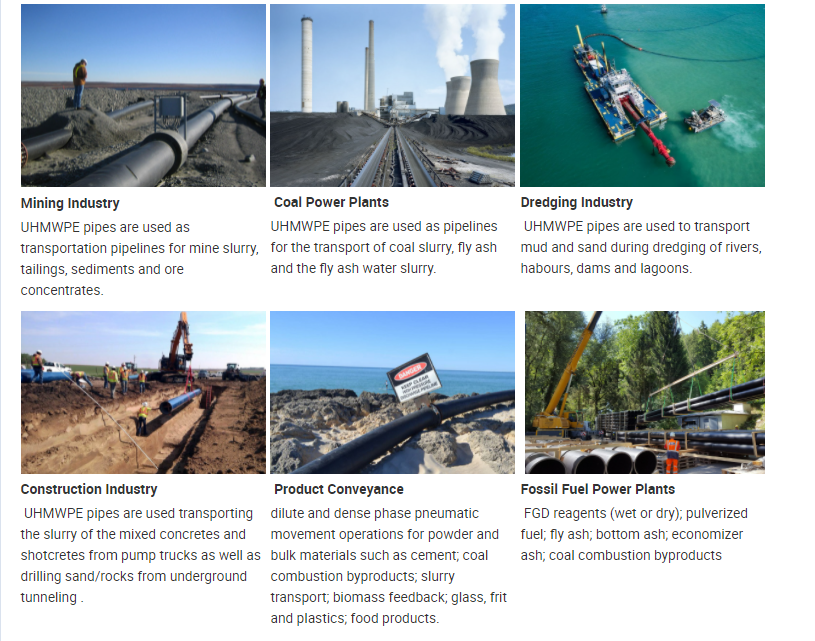 Feedback from contact with us